Top 3 USB Microphones for Home Recording Beginners
*retail prices quoted in this article are correct at the time of writing but they might change over time.
The global pandemic and lockdown have us turned to theatre and all sorts of performing arts online for entertainment. Here on The Shows Must Go Online we try to gather all sorts of streamings and information around performances online, but with us being stuck at home for so long, I am sure there are plenty of keen online-theatre-watcher who also enjoy little singing themselves.
Why not scratch that itch and have a go at recording a few covers or musical songs at your own home, with some more professional equipments than your Apple earphones?
Why USB Microphones?
That's why we did some research on the best beginner USB microphones out there. We looked at suggestions from various professional performers and home recording studios, and put together the top 3 USB microphones out there that are the most suitable for people who are completely new to home recording.
They are good beginner options because of their acceptable sound quality but also their reasonable prices. With these USB microphones, they are the plug-and-play type of microphones that require little to no setup or supporting hardware, making it the best for amateur or first time users. They are also usually extremely portable.
That being said, the downside of USB microphone is that it can only be plugged into your device (iPad, or your computer) directly, but not with an audio interface, which you might be interested in if you are getting more serious with your home recording.
But for any new starters, a USB microphone is more than enough to start with, without breaking your bank.
Here are the top 3 USB microphones that are currently out there in the market.
1. Rode NT-USB, USB Condenser Microphone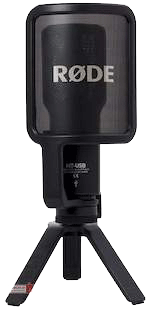 Currently £169 at Gear4Music.com
If you ask any professional or semi-professional singers or podcasters to recommend home recording USB microphone, Rode NT-USB is gonna be at the top of the list. Rode is a very well-known recording brand and their NT-USB is definitely the best sounding beginner USB microphone out there, with great noise cancellation.
Currently on Gear4Music.com it is selling at £169 which is a reasonable price for a high quality USB microphone. It also comes with its own pop filter so you don't have to purchase separately.
3. Blue Yeti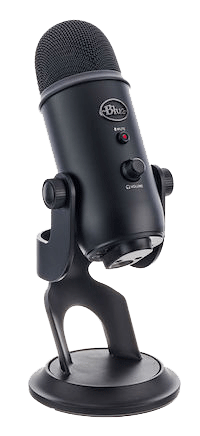 Currently £119.99 on Amazon
Blue Yeti would be next to Rode NT-USB in the top recommendations. Most people prefer the looks and sound quality of NT-USB, but Blue Yeti is slightly more affordable than the Rode NT-USB. However it is advised by most to use it together with a pop filter as Blue Yeti is known to be quite sensitive. Unlike Rode NT-USB, the microphone does not come with a pop filter so you'd have to purchase it separate, which can be bought on Amazon for around £10.
3. Samson Meteor USB Studio Condenser Microphone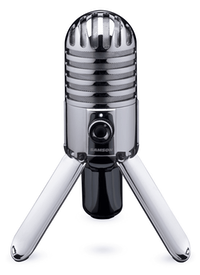 Currently £87 on Amazon, £90 on Gear4Music.com
If the above two beginner USB microphones are still a little bit too pricey for you, you should definitely consider Samson Meteor. It is not as high quality than Rode NT-USB or Blue Yeti, but it is definitely still an all round USB microphone with good sound quality. It is as affordable as you can get for a USB microphone, ranging from £68.99 to £90 depending on the colour. This USB microphone also does not come with a pop filter, but unlike the Blue Yeti, which a pop filter is strongly suggest, I'd say it's okay to try it out without a pop filter first as you can always buy one later on.
At the time of writing, for the same model and colour, it is selling at a slightly cheaper price on Amazon than Gear4Music.com (£87 vs £90). However I'd still recommend buying from Gear4Music.com if the price difference is not massive, as you get a 2-year warranty from them, and overall they are a music retailer so I personally think you'd get better customer support than Amazon.
Where Best to Buy Them?
Depending on how serious you are with home recording, these 3 USB microphones should definitely be a good starting point for you.
As I have mentioned above, if you are considering buying one, do check multiple places and bear in mind that you get a 2-year warranty from buying via Gear4Music.com, you can even pay pay a little extra (about £8-10 depending on the model) and extend the warranty to 6 years, which I find extremely valuable.
We hope you find this post helpful and hopefully you'd be starting your home-recording journey soon!